Somebody downloaded your guide. That's awesome, one more subscriber! But did you make everything to entice your new lead to share that content with others on social media?
I'm sure you don't want to leave extra social traffic on the table.
If your reader likes your guide, then chances are that he will share it with his friends. Your goal is to make this process as comfortable as possible to get more traffic from social media and eventually generate more leads.
You know what?
In this post I'm showing you 4 actionable tips to boost social traffic to your guides.
Jump right to the tips:
What social network does your audience use?
Our intention with share buttons is to get more shares and drive traffic to our website. Since people share content and information by using many different methods it's worth having a look how is your content actually shared.
People prefer to share content in many different ways, but it doesn't mean that you have to include the share buttons of every social channel. Keep in mind that offering too many sharing options could cripple decision making and leads to less shares.
Since every audience is different, then you should do your own research and figure out how your audience shares your content.
It means simply looking at your Google Analytics to have a detailed view on the structure of your social traffic.
Open Google Analytics and from the menu click "Acquisition" and select "Source/Medium"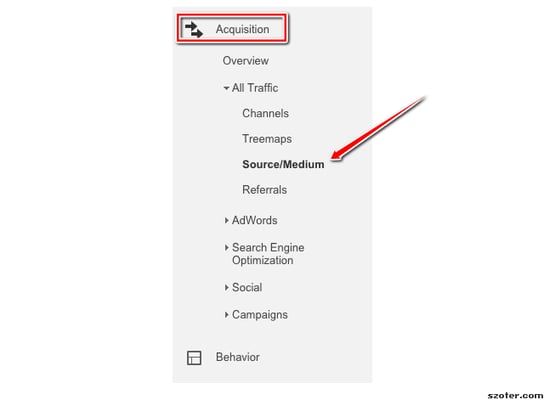 In the following table you will see the structure of your website's social traffic.
Now we know where your audience comes and how they share your content.
You should definitely include the buttons of your most popular social channels.
Now, it's time to check out the tips.
1. Increase social media traffic by placing share buttons on your thank you page
Efficiency: 3/10
Implementation: 2/10
Click here to share this tip. 👍
Leaving your thank you page without a call to action is a huge mistake. You can redirect your readers to another offer, but you can also ask them to share that guide on social media.
This is how you can embed share buttons in your thank you page:
Step 1: Register a free account at ShareThis.
Step 2: On the main page click on "get tools"
Step 3: Choose website option.
Step 4: Select a style (choose the button option).
Step 5: Customise buttons.
Select the social buttons you want to add to your thank you page.
All set? Hit "Get the code".
Step 6: Copy codes and add them to your website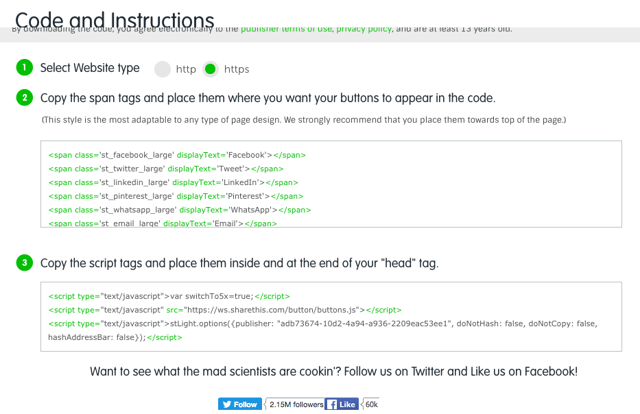 Step 7: That's it! Here is how it should look like.
Don't forget to ask your readers to share it with their friends. Simply asking them to share it could further boost social shares.
 Help us spread the love and share this blog post! 😬
4 Fresh Tips to Increase Social Traffic to Your Guides and Get More Leads https://t.co/IqtM8xvaEv pic.twitter.com/Mgpq9inbkU

— Momentum (@momentumai) August 19, 2016
2. Add share buttons to your PDF document
Efficiency: 7/10
Implementation: 4/10
Click here to share this tip. 👍
This is my personal favourite. Inserting clickable share buttons to our PDF documents generate almost half of the social shares for our guides. Here is how ours looks like: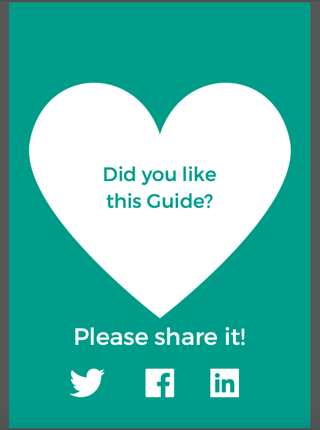 Add your own share buttons to your guide by following these steps:
Step 1: Generate shareable links for your guide.
Go to Share Link Generator and paste your guide's link to one of the available sharing options.
Click "Create the link" and your shareable link is ready. Repeat this process for each sharing method you want to add.
Step 2: Add share links to your selected PDF.
In this case we have a dedicated page with a call to action to share our guide. Open your PDF with Adobe Acrobat Pro and Click "tools" (upper right corner).  From the menu, under the Content section select "Link"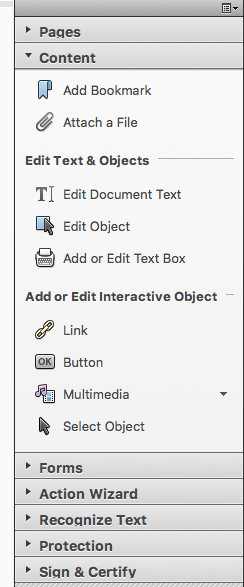 Draw a rectangle around your share icon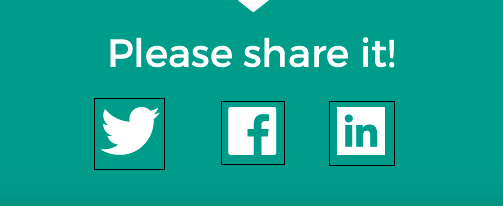 A small window will show up. Customise it as the image shows below:
Done? Click next.
Add your share link, generated at step 1.
Hit OK and we're done. If you hover your mouse over the icon you will see that it points to your share link.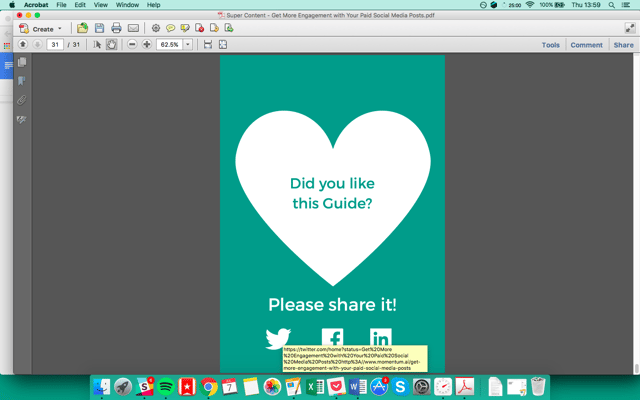 If you click on it a new tab will open in your browser with a pre-populated post ready to be shared with others.
Bonus tip: If you want to place the buttons into the footer follow these steps
Download the official icons of the selected social networks. In this example I'm adding Twitter's icon only. Fortunately, the process is the same for the other networks. 😎
Here you can find the official logos of the biggest social networks:
Step 1: Download the official Twitter icon from Twitter's website:
Step 2: Open the word version of your guide and double click on the footer.

Step 3: Click on "Picture from file icon"
Step 4: Select the social icon and arrange it to the footer
Pro tip: arranging different icons could be damn hard. Before you start pulling out your hair, it's better to create one image with the share icons and a few-word call to action.
3. Insert shareable quotes to your guide
Efficiency: 7/10
Implementation: 3/10
Click here to share this tip. 👍
Adding shareable quote to your guide has two main benefits:
Highlights what is important
Makes it easy to share
You can create pre-populated posts for Linkedin, Pinterest and Twitter. We should follow the same logic as we did at the clickable share buttons.
It's an efficient way to get more shares for your guide since your reader doesn't have to write anything,because the post is already prepared for him.
This is how one of our shareable quotes looks like in our guide:
Follow these steps and create your own shareable quote:
Step 1: generate click to share links.
Go to Share Link Generator and paste your guide's link into one of the available sharing options.
Click "Create the link" and your shareable link will be ready immediately.
Step 2: Add share link to your guide.
Simply just highlight "Click to Tweet" and attach your share link.
 Help us save a cat and share this blog post! 😬 🙀
4. Hide bonus content in your guide (Pay with a share)
Efficiency: 8/10
Implementation: 4/10
Click here to share this tip. 👍
If your reader really likes your content, then he is more likely to share it with others. Including pay with a share option could further boost shares since your reader gets something in exchange for sharing.
It's much better than blindly asking them to share it.
Here is how you can set up pay with a share in your guide:
Step 1: Go to Paywithatweet.com  and register a free account.
Step 2: Create a new campaign.

Step 3: Set up your campaign.
Make sure your readers will share a link pointing to the guide they are currently reading. They will promote the guide they just downloaded, but will unlock a different "bonus" content.
At the next step confirm that you are the owner of these guides and then click "create campaign"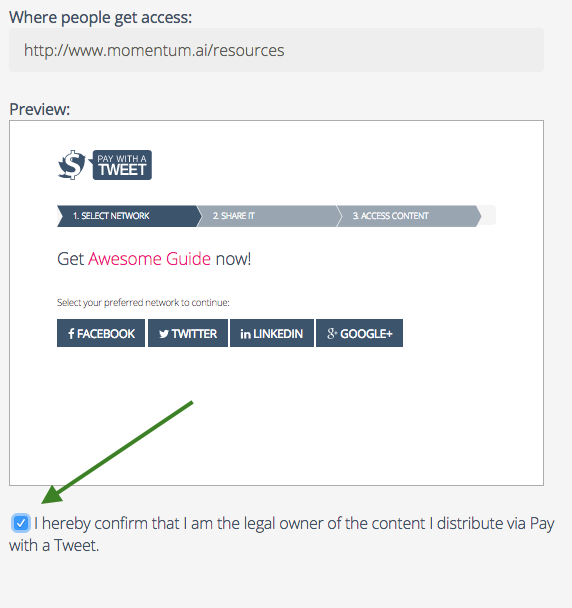 Step 4: Copy the direct link of the campaign
Attach this link to a call to action in your guide. Here is an example:
Add pay with a tweet link to your CTA.

If you click on that link you will be redirected to a page: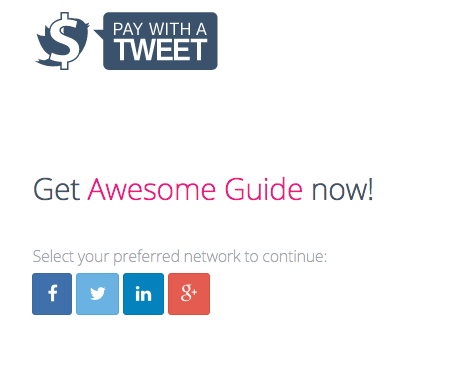 Here your readers can select the most comfortable method to share your stuff. After sharing it they will get the bonus content and your guide will get bigger exposure on social media.
Conclusion
If your readers like your guide, then they are more likely to share it.
But even if they like your stuff it doesn't mean that the sharing process should be complex and long.
You have to take a step further and make their sharing process as easy as possible by embedding social buttons to your thank you pages, adding social buttons to your guides, hiding bonus content that can be unlocked by sharing or simply adding a pre-populated tweets to your guides.
Now, it's your turn to try out these tips